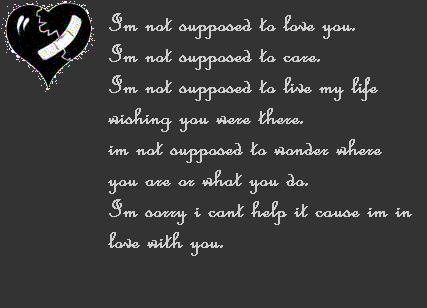 OMG!! Sentapnya hati ini.. Sedihnya hati ini... Sayunya hati ini.. Sakitnya hati ini.. OMG!!
Tadi Enna belek2 fesbuk sorang budak tue atau nk lagi specific Mr. R
(bukan nama sebenar)
.. Dia skunk dah bahagia dgn dia punya Mrs. R... Sedangkan

dari jauh akue nie menyayangi dia.

. Akue pon x pasti nape and macam mana akue boleh terjatuh hati terjatuh sayang pada dia.. Akue x sangka pulak boleh jadi macam nie..
Kisah bermula tyme kitorang study sama2..
Ala-ala perkenalan zaman study gitu... Enna memang agak baik dengan dia.. Banyak masalah suka duka Enna share dengan Mr. R nie.. Pndek kata.. Dia la telinga ketiga Enna, dia la mulut kedua Enna and dia juga la mata ketiga Enna.. Aina memang suka sangat kawan and kenal dia.. Dia seorang yg caring, baik hati and such a good listener plus motivator..
Bila dah besau2 macam nie.. Jarang la pulak contact.. Tapi Enna x penah lupa dia.. Tapi dia, Enna x sure.. Maybe YES maybe NO... One day tue, Enna discover dia skunk in a relationship with Mrs. R.. Well.. Damn sad.. Sodeyh plus sentap sangat.. Dunno kenapa tetiba jadi macam nie.. Enna sedih sgt bila tau skunk dia dah jadi milik orng lain.. Sayu sgt.. Rasa cam x rela jerk.. Nangis la jugak.. Paling sedih bila skunk, Mr. R dah semakin jauh dari Enna.. Susah tol nk contact dia skunk.. Dia busy.. Dia sibok..
I'm trying to be positive but I can't... Enna still x dpt trima dia skunk dah jadi macam nie. I'm losing my third ear. I'm losing my second mouth. I'm losing my third eye.. Damn hurt.. Sakit sangat.. Rasa down sangat..

p/s
:
utk awak... saya sbnrnya suka kat awak..
tapi saya x pasti mende nie sayang sbg kawan..
or more than that.. tapi yg saya pasti saya sedeyh..
saat saya tgk awak happy dgn awak nyer Mrs. R tue.
Saya sakit hati sgt tgk Mrs. R skunk jd Mrs. awak..